**This post contains affiliate links and I will be compensated if you make a purchase after clicking on my links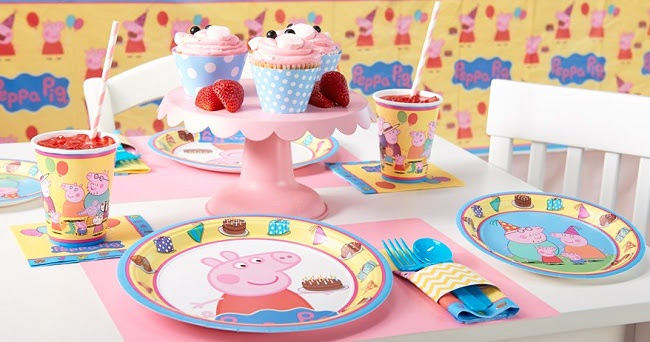 Party with Peppa Pig! Treat your little one to a super celebration with this cute theme from the party experts at BirthdayExpress.com. Peppa Pig loves spending time with Mummy Pig, Daddy Pig, her little brother George, and all her friends! And we bet your little one loves spending time with them, too. So treat your son or daughter to a celebration the whole family will love with a Peppa Pig party!
Peppa Pig Party Supplies – You can get a complete Peppa Pig party at Birthday Express. If you're not sure where to start, try a Peppa Pig Party in a Box. Simply select the number of little piggies attending your party and click "Get Started." From there, select the Party in a Box that best suits your needs. Or, if your hosting a party for 8 guests or less, consider the Peppa Pig Value Party Pack. The Value Party Pack makes it easy for hosts with the most to get their child's birthday celebration started! All of the basics have been bundled together in one convenient pack to make planning a cinch! Perfectly-sized for a party of 8 guests, this pack is big enough for a small gathering, as well as versatile enough so that extra place settings can be added without excess.
Peppa Pig Party Decorations – Sky Blue Matte Balloons, Pink Sparkle Star Foil Balloons, pink, white, and yellow crepe paper, sunflower yellow with white polka dot cone hats … Birthday Express has all the decor to make your Peppa Pig party perfect. For an extra bright party, check out the Pink or the Yellow Paper Decorating Kit! Guests are also sure to love the Peppa Pig Plastic Tablecover and the Red Foil Star Gleam 'N Burst Centerpiece.
Peppa Pig Party Favors – Give each guest a Peppa Pig Filled Party Favor Box that comes complete with lots of themed sweets and treats! Set one out at each place setting or send home some fun with each guest as they leave – it's the perfect way to say, "thank you," for celebrating the birthday kid's big day! Best of all, they are sturdy, easy to assemble, and priced just right! Or, you could make your own party favors using the Mimosa Striped Paper Treat Bags. You can fill them with crayons, candy, mini pinwheels, activity books, and more!