It's National Teacher Appreciation Week next week, and we at Utah Sweet Savings would like to give a big shout out to all you incredible teachers! If you're looking for a way to recognize a teacher in your life, check out these 25 awesome teacher appreciation ideas!
HUGE thanks to CouponCloset for putting this sweet list together, full of free printables to make your life a little easier!

1. My Teacher is "AW-esome"! Check out the fun blog eighteen25 for a cute printable template. Just add root beer!
2. I just love brand new markers myself, and I am sure any teacher would too! There is a free printable that reads "Thank you for coloring our lives and making us Sharpies" from Design, Wash, Rinse Repeat.
3. Give your teacher their favorite donut with a note that says "Donut you know how much we appreciate you?" Thanks, TheDiaryOfDavesWife!
4. "You deserve chocolate!! Thanks for all you do!" Add your teacher's favorite chocolate bar to this cute printable, courtesy of eighteen25.
5. If your teacher like movies, you can give them some movies tickets or a gift card to to Redbox. MyFrugalAdventures has really cute and inexpensive way to package up that gift.
6. You are o"fish"ally the best! Again, this is from the blog eighteen25. They have the template all set up for you, making this a super easy gift. All you have to do is add swedish fish or even some goldfish.
7. A Teacher Takes a Hand, Opens a Mind, Touches a Heart. Here is a free 8×10 printable from Balancing Home. You might consider framing this or print it on cardstock and place inside a clipboard.
8. You're the star of our class. This picture says star of the family, but nothing but country has a template for star of the class, perfect for teacher appreciation!
9. Fill an oven mitt with the treats, add a tag with some ribbon for a really cute gift idea from Skip To My Lou.

10. Thanks for making me a sharpie. Print this cute template from My LDS & Other Projects and add a marker! Easy and cute.
11. Give some Jelly Beans and include a note that says "No Beans about it – Mrs (enter Teacher's Name) Rules!" Thanks, Hip2Save!
12. Thanks a latte! Is your teacher a coffee drinker? Here is a great idea from saucy sprinkles for jazzing up a Starbucks gift card.
13. Classrooms have germs, so treat your teacher to a HUGE bottle of purell and jazzing it up and personalizing it with this cute idea from Controlling My Chaos.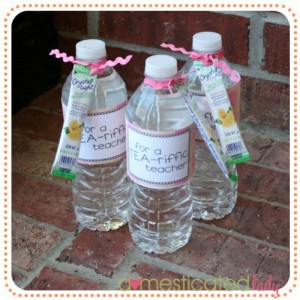 14. You're a 'tea'-riffic teacher! I love this idea from domesticated lady. She has the template all ready for you to print. All you need is water and some tea mix.
15. Bargain Shopping Mom has another version of a TEA-riffic gift idea. Check it out here.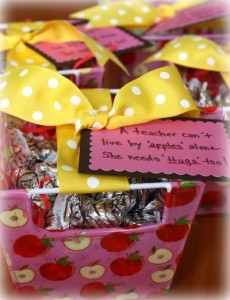 16. Apples alone are not enough, teachers need hugs too! What a sweet idea for your teacher! There is no template, but it would be super easy to replicate. Thanks, LittlePumpkinGrace!
17. Create a vase out of pencils! – Check out Frugalissa Finds post here.
18. Frugalissa Finds has a great idea – Give your Teacher their favorite drink and attach a note that says "Thanks for POURING into Gavin's life". Of course use your kids name. 😉
19. You're the 'hi-lite' of my day! Practical and cute. My favorite!

Just attach this cute tag to a highlighter (or two). Thanks, One Charming Party!
20. Check out Thrifty Tiff's post on her End of the year Teacher's Gift. She filled up a plastic Beverage Dispenser and it looks great!
21. I'm nuts about you! A tasty alternative to candy plus a cute little note. Perfect! Thanks, It's All Small Stuff!
22. Check out this cute M&M poem for your teacher! I love it! Thanks, Frugalissa Finds!
23. I love this gift idea from 4 Men 1 Lady using Fanta – Check it out here.
24. We Need Smore Teachers Like You Printable– give your teacher this delicious smore treat! Love this printable. Thanks, Crystal and Comp.
25. Make your teacher this fun artwork made out of crayons from I Heart Crafty Things. You can buy everything at Dollar Tree! I did a similar gift last year, and it turned out adorable!