If you happen to see me out and about this spring in something other than running clothes, there's a good chance you'll see me in my favorite item in my wardrobe! I got this Long Sleeve Swing Dress last fall, and I LOVE IT! So much so, that I even changed my Facebook profile pick to one of me wearing the dress (and I haven't changed my profile pic in about a year)!
Now! They are offering it in Short Sleeve too!! I'm so excited!
Long Sleeve or Short Sleve Swing Dress | S-3XL for $17.95-$21.95 *Available in 22 colors**
Shipping is FREE!
It's seriously the most comfortable dress I've ever owned. I can cozy up in it while reading a book, and just have to add a scarf and a pair of booties to head out the door. It's SO easy to accessorize with a cardigan, scarf, or jewelry! It's really the perfect dress for any busy woman, since it looks great all by itself, but goes well with so many accessories.
Seriously, this dress looks amazing on all body types. It's available in sizes small to 3XL. Check out the video below to see how cute it is on 3 different body types.
OK, now to the deal!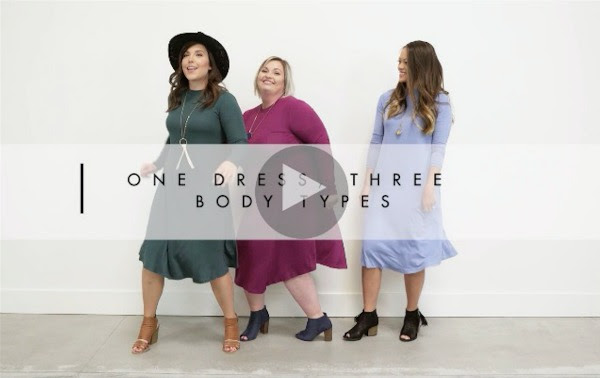 Check out these Cents of Style Tips on how to wear your new dress!
Wear your new swing dress with your go-to pendant necklace and a pair of heels. It's simple and elegant. Hello, holiday parties!
Plaid! Add a plaid shirt tied around your waist for the ideal festival vibe.
This dress is an ideal addition to your favorite ankle boots. We're loving this look! (Hint – it pairs well with everything from a plaid shirt, to a vest, to a kimono, to a pendant necklace…it's the perfect finishing touch.)
Layer a cute vest over your swing dress. It provides interesting texture and contrast and switches up your look just a little.
Cold weather is coming! Pair this swing dress with a coordinating blanket scarf, add a great wool fedora and ankle boots, and you have a pulled together look that will keep the chill out too.
Don't forget our other must-have accessory this Fall & Winter – the kimono. Layer a heavier kimono with a little length over your dress to add a bit of warmth without feeling bulky. You'll be right on trend.
Hurry and get yours while there is still plenty in stock in all sizes!