Is it time for you to overhaul your Christmas tree and give it a fresh new look? If you are tired of looking at it and eager to take it down this year, perhaps you should think about getting some new ornaments NOW at 50% off at Lowes.com
! A bunch of their ornaments are marked down, including the above red and below blue 68-packs of Shatterproof Ornaments, which are just $12.49 now!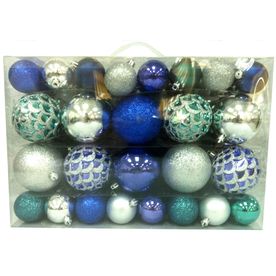 Now, ornaments at many stores will likely go down to as low as 80% off, but they will be VERY picked over at that point. If you see something you want, I highly suggest getting it NOW while it's still available. Otherwise you could end up with mismatched odds and ends and paying full price next year.
Remember to choose in-store pickup to avoid shipping charges!