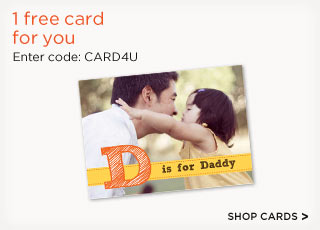 Here are three hot coupon codes from Shutterfly that you'll want to take advantage of:
101PRINTS: Through May 28, you can get 101 FREE 4×6 prints at Shutterfly.com.
CARD4U: Through May 31, use this code to get one FREE 5×7 card! Just in time for Father's Day.
BOOK40: Through May 29, get 40% off all photo books!
Shipping is not included with the first two codes (and will be about 99¢ for the free card or $5-$7.50 for the prints), but if your order is $30 or more, you can get FREE shipping with code SHIP30!