Cool down in the summer heat with this Copy Cat Sonic Slush recipe (with Nerds!)
Hey Utah Sweet Savings readers; it's Sydney from Tastefully Frugal here to share another Scrumptious Sunday treat with you!
This week I want to share with you our family's favorite way to cool down in the summer. We are big fans of Sonic Drive-In, mostly their drinks. It's a good thing my boys nap during their happy hour because if they were awake I'm sure we'd be going every day to get a drink! My tastebuds would jump for joy but my wallet and hips would be hating me! Did you know Sonic puts five pounds of sugar in every one gallon of water they use to make slushes?! FIVE POUNDS!!
To save both my wallet and my waistline I decided to make an at home version. These are so easy to make and are perfect for entertaining a large crowd (or even just a few close friends). Last week we had the neighborhood over for a pool party and I was able to make enough to serve 15 boys in less than 5 minutes. Not bad huh?!
You can use any flavor Kool-Aid packet you like but I love the taste of Blue Raspberry Lemonade mixed with the Nerds candy. The Nerds definitely take the edge off of the tartness from the lemonade. I saw this year that they are adding Jolly Ranchers in their slushes too; I'm definitely going to have to try me one of those!
Ingredients:
15-20 ice cubes
2 cups club soda
1/2 cup sugar
1 packet of Blue Raspberry Lemonade Kool-Aid Powder
Nerds candy (I use about a 1/2 tsp for each slush)
Directions:
Crush ice in blender (I love my Blendtec) until it's the consistency of a snow cone; about 15 seconds.
Remove ice from blender and set aside in a bowl.
Add Kool Aid, Sugar and 1 cup of club soda in blender and pulse for 15 seconds.
Return ice to blender and blend for 5 seconds.
Add remaining cup of club soda to mix and blend for another 5-10 seconds just to combine.
Top with Nerds candy.
This recipe makes between 4 and 6 servings depending on the size.
What's your favorite Sonic Slush flavor combination?
If you liked this recipe check out some of my other cool treats: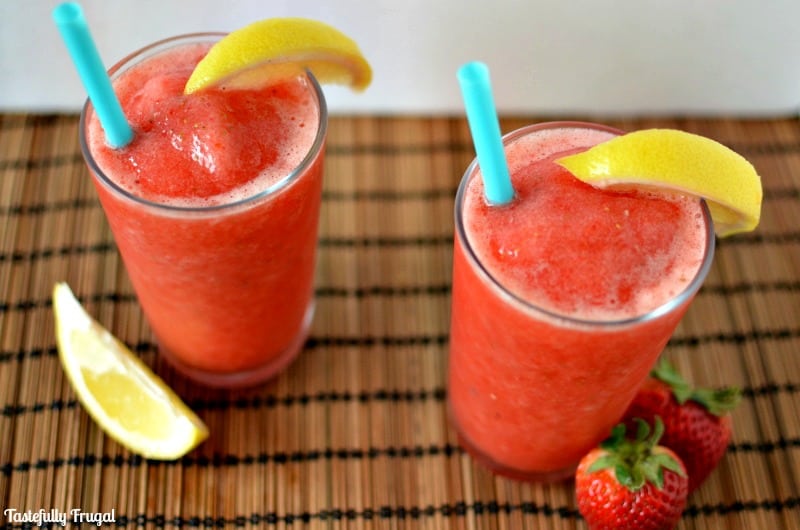 Copy Cat Sonic LemonBerry Slush